new to this community, so. . hello pretty's!


Title: rumor
Author: Kennan
Pairing: norman reedus / spf
Rating: R
Warnings: slash. . rps
Disclaimer:i. don't. own. them. they wouldn't do it so i did it for them.
Summary: norman , sean, helena, and the way adults handle things
Notes: So. . I was on IMDB and noticed that on Norman's profile it says he and Helena are divorced, granted they were never married but it planted a seed that. . well grew and then I read an interview that took place right after Gossip where Norman talks about rumors. . . and then read and article about Helena and Orlando Bloom.. . . .and yes it's true I have way too much time on my hands.
also: inspired by prada pictures.
also: the song is from death cab for cutie's new cd: plans
Feedback: asked for, pleaded for, demanded even. favorite lines are especially appreciated.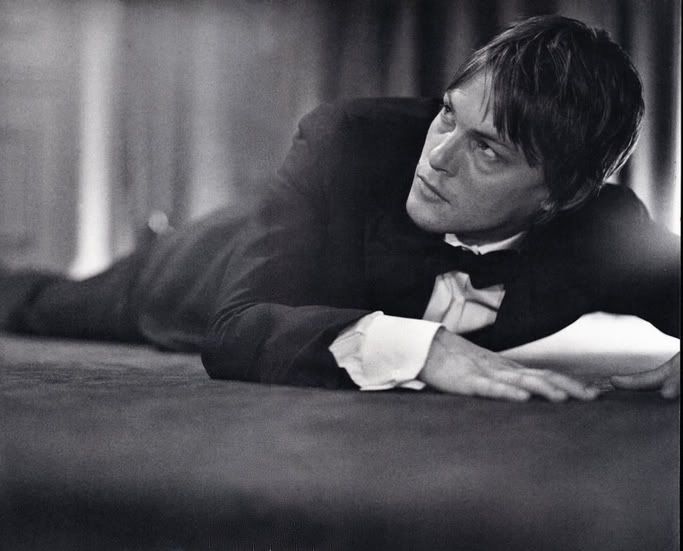 Norman's lying on the floor his face to the side and his hands in front, pressed together in a triangle.
"What are you doing?"
"Worshipping the ground you walk on."
Sean laughs because it's supposed to be funny, or at least he thinks so. Norman still has his suit on and he's wearing a bow tie instead of a tie tie and this is funny too. . but also hot. The jacket is wrinkled a little from sitting and Norman's eyes look tired.
"C'mon then." Norman lifts up a bit and eyes Sean critically.
"Come here." Sean eyes the carpet and then Norman and debates dirt versus compliance. He pauses just long enough that Norman almost asks again and then he lies down. Fingers brushing Norman's fingers, chins propped up in the rough rug.
"Well?"
But Norman stands up, satisfied simply that he can still order Sean around. . . a little bit.

***

Later it's all hot tongues and sharp teeth and ragged fingernails.
Sean is fascinated by dry paint near Norman's hip and worries at it with his lips. His thumb rubs along Norman's belt line and he shakes a little when the first button comes undone.
He rests his cheek (end of the day stubble just starting to grow) against Norman's pelvic bone and breathes in smells: ck One and cigarettes and spilled tequila.
Norman's knees are buckling from being tired and from standing too long and from Sean's breath hugging his skin. He lets gravity drop him to the bed.
Lets Sean's tongue: hot and soft and comforting trace his skin. Stretches his fingers so they're like the points of a star, arches his back into the heat.
When he comes it's shuddery and Sean swallows. . .which is a first. When did everything start to change?

***

"Rumor has it you and Helena got divorced."
"We were never married."
"Point."
"But we aren't together anymore."
"You never tell me anything anymore."
"Never did in the first place, Sean."

***

Helena is perfect for him as far as it goes. She's supportive and challenging and exotic. She loves his child, she gave him his child, she is the mother of his child.
The rift is nothing he cares to think about, just something that happened and hurts.
It has nothing to do with her affair with Orlando. . . not really.
Nothing to do with his one night stands. . . not really.
Her biggest fear has always been commitment, monotony. She is claustrophobic if nothing else.
His biggest fear is that he'll let go too soon.

***

When Boondocks is done filming Sean promises to call but Norman waves it off. Sean's a good guy, a great guy maybe, but that's as far as that goes. Their worlds came together and now it's done.
He's been wrong before and he's wrong now.

***

"Norman."
"Helena."
"I'm not in love with you."
"Point taken." And he hates that he sounds like Sean when he's lost an argument.

***

The first time he dreams about Sean he wakes up scared instead of aroused. Falls back against the pillows and watches Helena breathe. Rolls on his side and puts a hand on her stomach. "Home." But he doesn't believe it anymore.

***

They meet up in a dingy pub in London. Both of them on the continent so to speak. They drink their beers like men, in constant, silent competition. By the end of the night their both stumbling and glad their hotels are close. They reach Sean's hole-in-the-wall first and Norman is invited up. The sex isn't planned but there it is.

Norman's sweater stretches at the shoulder as it's torn off and the collar of Sean's shirt is ruined. "Too long. Too long." They breathe into each other's mouths and moan. Norman's hands find Sean's cock and he almost pulls away at the pulsing need there. Doesn't though and the sin is complete, if you can really consider it a sin - Helena's slept with Orlando twice at least and she thinks Norman doesn't know. . .but he does.

When Norman comes he has to bite his lip to keep from saying Helena's name. . . out of habit.

***

"Do you like it?"
"Uhmmmmmmmmmm."
"Your room's over there."
"There's a hole in the ceiling, Daddy."
"It's a skylight, you can see the stars."

***

Alone, when Norman's wanking his mind gets confused. He's so used to imagining Helena, her hands, her mouth, her folds. He's memorized her and years later she still turns him on. But now. . it hurts so much to picture her and then there's Sean. Sean who is rough and strong and makes him weak which he hates.
When he comes he bends into the tension and release and calls Sean's name.
It's settled then.

***

When it's all said and done there isn't anything to sign which makes the whole thing lack closure. Norman almost wants to ask her to marry him just so they can divorce and he can have those papers.
Something tangible.

***

"Rumor has it Helen Christensen has left longtime boyfriend and father of her child Norman Reedus for the young British actor Orlando Bloom. Reedus and Christensen were together for an unknown length of time but have one sun Mingus Lucien together, both stars plan to stay close but a source close to Reedus say he's completely devastated by the whole affair."
"Fuck rumors."
Norman rolls over so his face is hidden in the soft skin behind Sean's shoulder.

***

He straddles Norman low near his knees, places his hands firmly on Norman's thighs kneading out kinks and creating an entirely different sort of tension. He drags his fingers in and then back out towards his hips. Watches as Norman rolls with the movement. Finds the sight so fuckingerotic he thinks he could come just from this.
He dances his fingers up Norman's ribcage bites tenderlike at Norman's collarbone. Against his neck whispers "Bella, bella."
Norman moans and manages to flip Sean.
"Bell-o." And he nips.
Sean gets a firm hold of Norman's hips grinds up until Norman's eyes roll and flips them again. "Bell-a, beautiful."
He bends to lick and kiss at Norman's sternum tastes: sweat and salt and sex and something distinctly Norman. He slides down, down his whole body sliding and pressing and then he's there and Norman throws his neck back, tendons arching, whole body arching.
Sean licks at Norman's cock, tastes the salty precome there and thinks: this is for me.
He feels Norman rolling into his orgasm, feels the waves right beneath the skin. He opens his throat and when Norman comes he moans "Connor." But Sean pretends not to notice.

***

Love of mine some day you will die
But I'll be close behind
I'll follow you into the dark

No blinding light or tunnels to gates of white
Just our hands clasped so tight
Waiting for the hint of a spark
If heaven and hell decide
That they both are satisfied
Illuminate the no's on their vacancy signs

If there's no one beside you
When your soul embarks
Then I'll follow you into the dark

In Catholic school as vicious as Roman rule
I got my knuckles bruised by a lady in black
And I held my tongue as she told me
"Son fear is the heart of love"
So I never went back

If heaven and hell decide
That they both are satisfied
Illuminate the no's on their vacancy signs

If there's no one beside you
When your soul embarks
Then I'll follow you into the dark

You and me have seen everything to see
From Bangkok to Calgary
And the soles of your shoes are all worn down
The time for sleep is now
It's nothing to cry about
Cause we'll hold each other soon
In the blackest of rooms

If heaven and hell decide
That they both are satisfied
Illuminate the no's on their vacancy signs

If there's no one beside you
When your soul embarks
Then I'll follow you into the dark
Then I'll follow you into the dark

When the song is done Norman dips his head and nods not quite approvingly. Sean watches him for a minutes waits for the reaction he wants.
"Connor and Murphy. . . they'd get it."
Sean nods and is content.
"I get it too."
And Sean is surprised but he doesn't show it. Just lets it be.

***

Norman thinks about Sean more often then not but he rarely thinks about "falling in love" with Sean. Thinks it was less like a cliff dive and more like quicksand. . . slowly pulling him in until there wasn't anything he could do but accept it.

***
"What. the. fuck."
"Sh. Go back to sleep."
Sean swings his legs out of bed and pads down the hall. Opens the door and scoops Mingus into his arms. "Shh. I'm here, it's all right, it's all right. Just a nightmare, I'll protect you."

***

They talk about consolidating; Sean moving in before they ever. . .go all the way.. Same night as Sean slides a hand down Norman's torso he is stopped.
"I want you."
A condom wrapper crinkles and lotion is uncapped.
"Shh."
Sean sucks at the junction where neck meets shoulder and slides a finger in. Norman arches and shudders against the intrusion. Two fingers and Sean hooks his fingers and there Norman bucks and moans and thrashes his head his muscles tense under Sean's tongue. A third finger and Norman is begging, fucking begging and he's never been like this before.
"GodSean, Sean, Sean." And Sean bites down to remind him that this isn't an act, this is real, this is life, this is it.
He lifts Norman's legs so the rest on his shoulders and pushes against Norman's opening. He tenses his hips and pushes forward slowly as Norman's eyes clench shut. "Etch, shh you're good, you're so good." When he's in he stops, though all he wants to do is slam forward again and again and until their both spent and the bed's broken.
Instead he waits until he hears that gasp/mewl and feels Norman's heels digging and pulling him closer, deeper. He moves and with his next thrust rubs right there and Norman arches his back curling away from the bed.
They don't last long and when Sean comes he almost cries it feels so perfect. All white vision and a little bit of heaven and so fucking cliché and just. . .
Norman falls back to earth and curls into Sean and for the first time in his life lets himself be held.
"I'm fucking scared."
"Why?"
"I need you, Sean."

***
Mingus likes to tell people about his parents. The British guy Norman won't look in the eye and his mom whose "a pretty lady from Denmark." But his favorite thing to do is to tell people about this "singing/acting cool guy that makes me french toast for breakfast and loves my daddy to pieces, almost as much as he loves me."